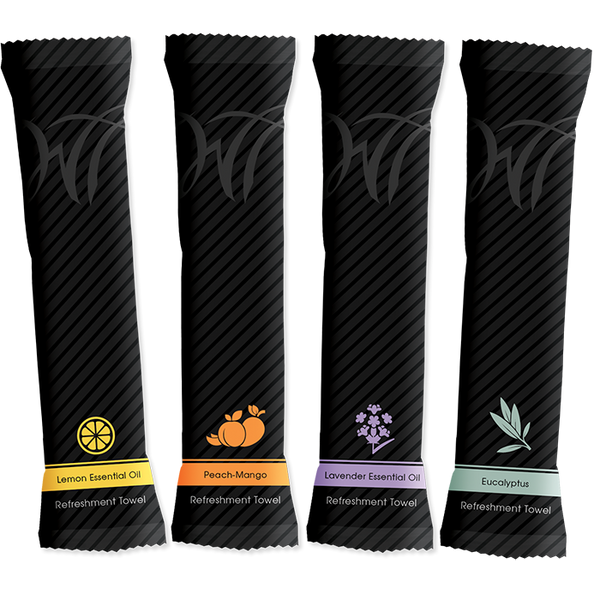 100% Cotton Pre-Moistened Individually Wrapped OSHIBORI Towels
100% cotton towels - 500 count box
With The Oshibori Company, LLC. single-use, aromatherapy OSHIBORI towels you can offer the highest level of luxury to your clients and customers no matter where you are located.
Each oshibori towel is pre-moistened, rolled and wrapped in a thin plastic air-tight sleeve. Microwave Safe!
Nothing says luxury like a steaming, gently scented cotton towel.
Our 100% cotton, pre-moistened, individually wrapped, one-use, OSHIBORI towels are the ultimate in luxury. These towels are of the highest quality, and tell a customer everything about your attention to customer comforts. They can be served steaming hot soothing your customer like on a first-class flight or icy cold refreshing your client during a sporting event or at a catered event. Any way you use these towels there is nothing like them for First Class Refreshment Anywhere.
Available in 8" x 8"  10" x 10" sizes, OSHIBORI towels come with various aromatherapy scents including lemon, lavender, peach mango eucalptus and unscented.
Because our OSHIBORI towels are single-use, you are guaranteed they will always be clean and safe. When you are finished with them, you can either dispose of them or join our voluntary recycling program by sending them back. Towels returned to us are washed, sanitized and donated to charitable organizations throughout the country.
Order your individually wrapped, pre-moistened, single-use, 100% cotton OSHIBORI towels today and set your business apart!
These OSHIBORI towels are perfect for many occasions, outdoor weddings, concerts, spas, conferences, restaurants, casinos, VIP rooms, golf tournaments, and so much more!  Additionally, activities such as yoga, bikram yoga, hiking, cycling and running.